We're prepping ourselves for cold weather storms here in the NE. Getting out our scarves and warm winter coats, comfy socks, mittens, hats and protective boots. Why not do the same for our fur babies? After all, the cold grounds and salt can hurt and burn the skin on their paws, not to mention give them stomach colds which is what would happen to our dog. And, that's a mess no one wants to clean up.
I even made a set for our cat. Her paws were like ice because we were on the bottom floor, inches from the ground where the garage used to be. She wouldn't leave them on when she was walking but would sleep with them on when she took her long naps.
These are my favorite links to reference. Very simple, very enjoyable to read through and easy so you can start right away. Customize her pattern for your dog's activities:
This link is very similar to the above pattern but offers lots of visuals. Simple to make in 10 minutes; and, these won't fall off their feet the way others patterns do! I also like this version because you can customize it for the length of your dog's legs. How perfect is that?
Optional: make extra tall for deep snow, add fur trim, add a waterproof lining, add reflective patches, try different non-slip materials and make it longer on the boots.
Also called Paw Protectors. Some reasons why they
are great to have or even needed for some dogs: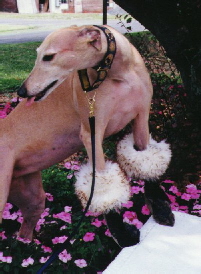 Keeping paws dry for dogs that don't like getting their feet wet in the rain
Protecting paws when walking on rough or uneven surfaces
Protecting paws from the heat of pavement in hot weather
Protecting paws from salt and other chemicals used to melt ice and snow
Keeping paws warm when walking in snowy or icy conditions
Preventing damage from scratching when medical conditions such as skin allergies arise
Old dogs who slip on the ice
Dogs with injured paws in need of protection
Dogs with tender toes who are sensitive to cold
Outdoor sporting dogs who need a little extra warmth and traction
Complied list by
The Domestik Goddess
and
Sewing.org.
Picture of dog with fur trimmed booties by
Sewing.org.